When:
04/12/2017 @ 7:00 pm
2017-04-12T19:00:00-05:00
2017-04-12T19:15:00-05:00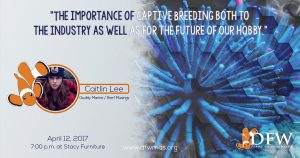 "The importance of Captive Breeding both to the industry as well as for the future of our hobby."
Biography:
Caitlin Lee has a deeply rooted passion for marine life. Her first job was at a local fish store scrubbing aquariums and befriending moray eels.
As a regular blogger on a popular online reef-centric publications, her writings have covered a wide range of aquatic subjects. Caitlin moderated a video web series that brought together industry leaders to discuss many important topics.
Her passion for the aquarium trade has led her to Quality Marine, where she creates media that highlights their industry leading commitment to sustainability through captive breeding and net-collected fishes.
Caitlin currently operates Reef Musings, a blog devoted to covering the beauty and mystery of the ocean.
Her session at MACNA 2017 will discuss the importance of captive breeding and how it pertains to the future of our hobby.
Come and join us this April 12 at 7:00 p.m. at Stacy Furniture.