When:
10/30/2021 – 10/31/2021
all-day
2021-10-30T00:00:00-05:00
2021-11-01T00:00:00-05:00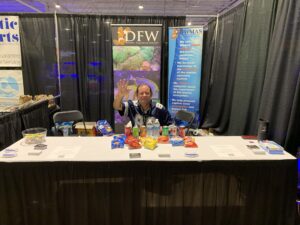 DFWMAS provided small army of volunteers to Aquashella, and as a result Aquashella said by far this event was their most successful check-in process ever! Cool to have been part of history making! "Many hands lightens the load" – unknown
In addition to staffing booth DFWMAS (Dallas Fort Worth metroplex Marine Aquarium Society), those dfwmas affiliated volunteers that helped Aquashella directly with check-in, line management, swag distributions, some even did light security were given fun Aquashella staff t-shirts.
Our DFWMAS booth gave members free snacks and drinks so they could enjoy this absolutely incredible Aquashella experience.
At end of show, some vendors donated items to club so next few upcoming dfwmas frag swap raffles should be AMAZING!